No products were found matching your selection.
Bespoke Wooden Blinds
Wooden blinds consist of a number of horizontal slats that are linked together by a functional cord pulley system. Our made to measure wooden blinds are an exceptional choice if you're looking to modernise your interior. They provide a modern, yet contemporary look and feel, and have proven to work well in any room! Natural, real wood adds character to a room and the range of styles are endless to achieve an interior like no other. You can enjoy complete privacy and have full control over the light that enters your home with our custom made wooden blinds.
They are remarkably low maintenance and only require a simple run down every so often to keep them dust free. 20% of heat in your home is lost due to poor insulation from your windows, and blinds can in fact help reduce energy and heat loss. Furthermore, made to measure wooden blinds also boast an aesthetic appeal.
Bespoke wooden blinds are designed for all seasons, but provide their benefits especially during the chilly seasons. While they can keep your home warmer in the winter, their qualities allow them to keep your home cooler in the summer too. They're extremely versatile, and we have a fantastic selection available for you to choose from at our showroom in Leicestershire. We know that window treatments need to be extremely versatile and close fitting, which is why our bespoke wooden blinds provide the perfect fit you need, tailored to your window specifications.
Our wooden blinds are also available in a range of finishes, so whatever colour you're looking for, whether it's white, cream, grey and more – we can help. Get in touch with us today to discuss your specific requirements.
We also offer a fitting service for all curtains and blinds. For more information on this, please contact us.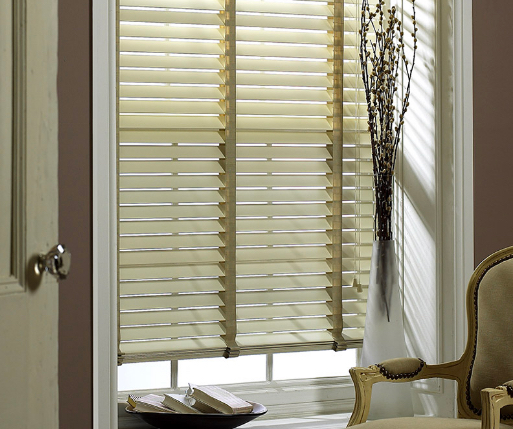 Contact Us Fill out the form below and we will get back to you!