No products were found matching your selection.
Bespoke Vertical Blinds
Vertical blinds are a type of blind that consists of a headrail that is fitted along the top of a window with vertical strips of fabric which hang down. These are often referred to as louvres or vanes, and they can be drawn across the headrail by a chain that controls the angles. This is what makes them extremely flexible and versatile, as you can adjust them to suit your needs, whether you're looking to reduce the amount of natural sunlight shining through, or you want to welcome only a portion of it.
We specialise in made to measure vertical blinds to ensure you get the perfect fit. They are quite popular for large patio or French doors, as the glass with these makes it much more difficult to maintain privacy and the amount of sunlight gazing into your home.
Our bespoke vertical blinds are available in three types -with chains, sealed pockets, or rigid verticals. The purpose of a sealed pocket is to weight each vane down instead of the chain system. Whereas a rigid vertical is a PVC version of the standard vane, without the necessity for weights or chains. You also have the possibility to choose from weave density and this will depend on the purpose of your blinds and other requirements. You can choose to cut out all of the light when the blinds are closed, or if you're looking to achieve a warm atmospheric glow in your room, you'll opt for a lighter weave.
We have supplied custom made vertical blinds for many homeowners across Leicestershire and nationwide. If you have large windows, long windows or glazed doors that would benefit from added privacy, vertical blinds could just be the ideal solution for you and your home. Please get in touch with us today to discuss your requirements or visit us in our showroom located in Lutterworth, Leicestershire.
We also offer a fitting service for all curtains and blinds. For more information on this, please contact us.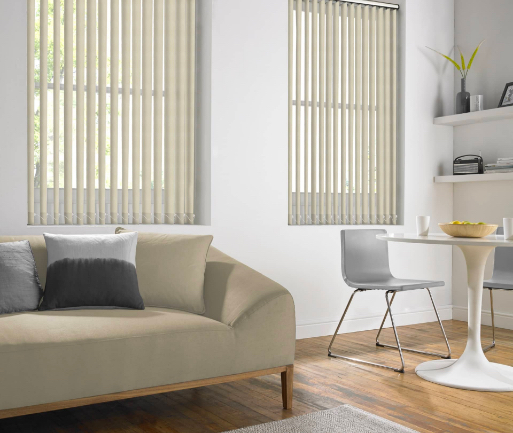 Contact Us Fill out the form below and we will get back to you!