No products were found matching your selection.
Bespoke Duplex Blinds
Duplex blinds are contemporary yet practical blinds that operate on a chain system. They are also often referred to as day and night blinds, or duo blinds thanks to their smart design. The blinds feature alternate strips of dim out and sheer fabrics, and these are aligned to create a full dim out blind, a full sheer blind or a combination of the two. We provide a range of stunning range of made to measure duplex blinds for any room and any environment. The construction of these blinds enables the fabric to transmit light when it needs to, which offers complete light control and complete privacy.
Available in a range of fabrics, patterns, and designs, we strive to stock an exceptionally stylish range for you to choose from. Bespoke duplex blinds are a great addition to a room, and with eye catching designs, we're not surprised why this type of blind is becoming more and more popular.
At Evergreen Curtains and Blinds, we stock only the highest quality materials to produce custom blinds that perfectly meet the needs of your interior, and most of all, your windows. And to make duplex blinds even more versatile, they have the additional option of motorisation. Arrange a free appointment with one of our friendly experts to help bring your interior to life even more.
We also offer a fitting service for all curtains and blinds. For more information on this, please contact us.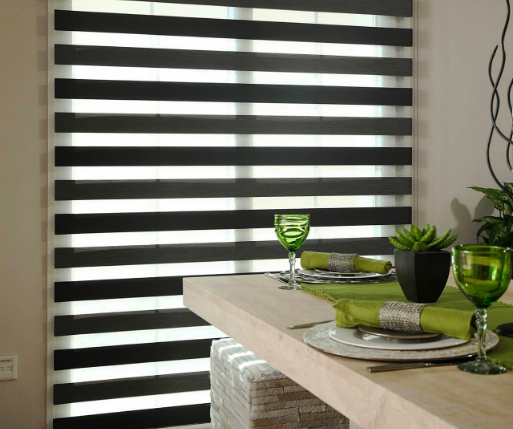 Contact Us Fill out the form below and we will get back to you!